GlobalPSC News – April 2016
Message from the CEO
These are exciting times for the GlobalPSC. It seems especially appropriate to flag a number of recent developments, and I look forward to being able to share details on new developments more fully in the near future.
We recently expanded our board to include more members with practical program experience in implementing North American product stewardship and extended producer responsibility (EPR) approaches in addition to further deepening our policy expertise. This provides an excellent opportunity to revisit our strategic approaches and prioritising our resources to deliver ongoing value to our members.
I've just returned from Melbourne, Australia, where I attended the PaintBack launch, meetings with various GlobalPSC members and site visits involving innovative reprocessing technologies for waste electronics and for mattresses. Most of these were in conjunction with staff from long-term GlobalPSC government members, Sustainability Victoria (SV). The SV emphasis on collaboration and program trials to develop 'real world' information dovetails nicely with that of the GlobalPSC and helps to deliver tangible results.
The Paintback launch further reinforced the value of collaborative approaches and seeking solutions that benefit businesses, governments and other key stakeholders. We joined Australia's environment minister the Hon Greg Hunt MP, SV CEO Stan Krpan and Paintback Chief Executive Karen Gomez, with whom we've worked over the years in her role heading up AgStewardship Australia, our first Sustaining Corporate members. Representatives of other GlobalPSC members including the Federal Government's Department of the Environment, consultancy Equilibrium and the New South Wales Environment Protection Authority were also in attendance.
The Paintback launch was rewarding in particular because of our role in early developments of the program. The GlobalPSC was commissioned to examine the public policy and business case for voluntary paint stewardship and we facilitated stakeholder discussions. Areas of agreement and objectives for the program from the first stakeholder workshop (see below) are well reflected in the ultimate outcome.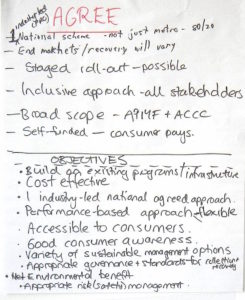 We are seeing increased interest in our approach of drawing lessons from international experience and tailoring them to local needs through stakeholder engagement. We'll be sure to keep you posted as projects proceed and will continue to ensure that GlobalPSC members benefit from early access to, and participation in, such efforts.
We are certainly pleased to welcome a new Sustaining Corporate member with The Compliance Map (offices in the UK, US and Australia), and we will have exciting announcements about other new multinational GlobalPSC members in the near future. We'll also be providing details on our involvement in several international events as we are able to share them with you.
Russ Martin
Chief Executive Officer 
National Voluntary Paint Stewardship Scheme Launched in Australia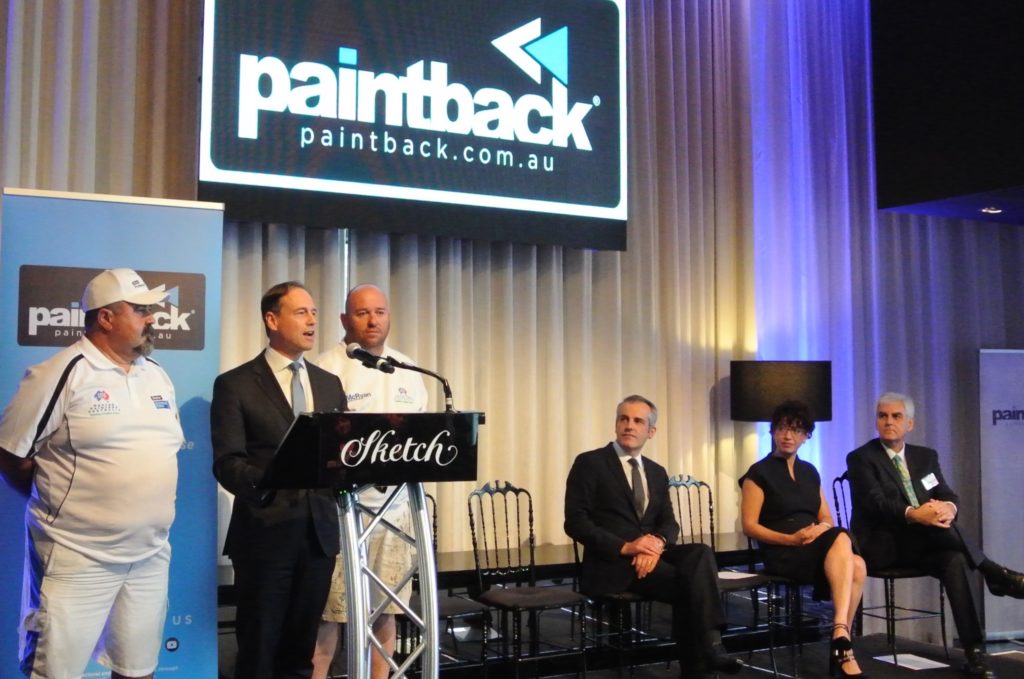 [L-R: Master Painter Stephen Papdan; Federal Environment Minister the Hon Greg Hunt MP; Master Painter Damien McRyan; Sustainability Victoria CEO Stan Krpan; Paintback Chief Executive Karen Gomez; Paintback Independent Chairperson Jim Liaskos]
Australia has just launched what is believed to be the world's first, all-encompassing national voluntary stewardship scheme for waste paint* and paint packaging, Paintback. The program, founded by paint producers DuluxGroup, Haymes, PPG, Resene and Valspar, was launched 29 April in Melbourne by the Hon Greg Hunt MP, Australia's Minister for the Environment.
The program will be funded through a levy of 15 cents per litre (plus GST) on new architectural and decorative paint in Australia.  The levy was approved by the Australian Competition and Consumer Commission (ACCC) to fund the collection and treatment of waste paint nationally, education campaigns and research for new uses of waste paint by Paintback Ltd, a not-for-profit organisation dedicated to the end-of-life management of waste paint and packaging.
Paintback will build upon a range of collaborative efforts between industry and governments. Australia's Environment Ministers agreed to place paint stewardship on their work plan in April 2013 and the Environment Minister nominated paint as a priority product under the Product Stewardship Act 2011 in June 2013. The multi-stakeholder National Waste Paint Implementation Working Group completed the scheme's business plan, economic model, 5-year rollout strategy and engagement plan and voted unanimously to support an application to the ACCC for approval of the levy.
The GlobalPSC helped facilitate development of the scheme. In conjunction with Sustainability Victoria and the Australian Paint Manufacturers' Federation, the GlobalPSC facilitated initial stakeholder discussions, featured paint and batteries in a priority product stewardship workshop and developed the public policy and business case for a voluntary paint stewardship approach in Australia. Further details and primary documents are available under the Paint category on the Knowledge Base available to GlobalPSC members.
* New Zealand accredited a voluntary paint collection program called Paintwise funded through a voluntary levy on Resene paint sold and from separate fees on non-Resene branded paint and trade waste paint.
New GlobalPSC Sustaining Corporate Member – The Compliance Map Ltd

Compliance Map develops solutions to help businesses manage their environmental compliance obligations arising from regulations and directives and to help optimize their use of resources. This includes product stewardship responsibilities, reporting and minimization of waste as well as carbon disclosure that will play a significant part in identifying, monitoring and driving down their customer's global environmental impacts.
Both Product Stewardship and EPR regulations and standards are at the core of Compliance Map's solution offering. This includes mechanisms to collect, store and produce remittance reports required for submission to EPR schemes for directives such as WEEE (waste electrical and electronic equipment), Battery as well as deposit and worldwide Packaging programmes. The solution offered automatically manages sales warehousing data and combines with relevant Packaging, WEEE, Battery, Oil, Beverage or Paint information to produce costs and weight reports ready to be remitted to registered schemes on a monthly, quarterly or annually basis. This enables companies to automate the entire process by which they track and report waste to schemes and programmes worldwide and make better use of their own resources.
Compliance Map are made of a team of regulatory compliance experts with over 20+ years of experience in the arena of environmental compliance which has been fed into their software solution offerings, creating a holistic approach to managing obligations businesses face in today's regulatory climate.
Share