GlobalPSC News – September 2013
Canadian Stewardship Developments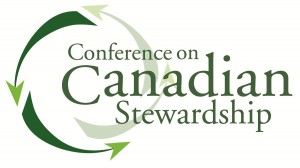 By Russ Martin, GlobalPSC CEO
Earlier this month, I attended the Conference on Canadian Stewardship in Toronto on behalf of the GlobalPSC. Over 400 Canadian industry, government and NGO leaders attended, as well as some of our European colleagues. A strong GlobalPSC turnout highlights the event's significance to us, as GlobalPSC Executive Committee members Garth Hickle and Scott Cassel also attended to share experience from a wide range of policies and programs.
Holding the event in Toronto was especially relevant given the current provincial debate over Ontario's policy and funding structure, as well as debate about visible eco-fees. Ontario's Environment Minister, the Hon. James Bradley, addressed how proposed changes to Ontario's Waste Diversion Act are intended to shift emphasis to individual producer responsibility rather than a collective approach, in the belief that such a shift would better encourage design for the environment. With a call for "no more eco-fee surprises", Minister Bradley also advocated the need for the inclusion of producer responsibility costs in product prices, stating that recycling is just a cost of doing business so there is no need to spell it out as a separate fee.
Funding for kerbside recycling of packaging and printed paper (PPP) was also a hot topic. The world's first kerbside recycling (Blue Box) program debuted in Kitchener, Ontario in 1981 and Canadian provinces are continuing to advance recycling of PPP.
Glenda Gies of Multi-Materials British Columbia and Westminster, BC Mayor Wayne Wright addressed recent controversy around the province's application of extended producer responsibility (EPR) – including full industry funding – to PPP. Areas of dispute included whether to exclude glass from Blue Box collections to help control industry stewards' costs, specific conditions for industry collection incentives to local governments and relative strengths of industry stewards and local governments in negotiating funding arrangements. Paul Gardner of Recycling Reinvented highlighted Canadian lessons for the USA in building support for EPR of PPP.
The commitment of brand owners as industry stewards is evident throughout the Canadian programs, as is brand owner desire to harmonise and simplify stewardship programs where possible in order to reduce stewards' costs. John Coyne of Unilever addressed harmonisation and the role of the Canadian Stewardship Services Alliance in streamlining administration to reduce costs of steward programs for non-deposit PPP. Cliff Hacking of the Electronic Products Recycling Association discussed similar efforts for EPR of waste electronics.
EPR Canada launched the results of its EPR Report Card 2012 at the conference as part of its efforts to see full EPR implemented across Canada. Based on government responses to a questionnaire, EPR Canada had British Columbia and Quebec leading the pack with each graded as a B+ and the Federal Government lagging with a grade of F. Details are available here.
In a fitting recognition of his many efforts, GlobalPSC President Neil Hastie was awarded the Canadian Stewardship Award for an individual. We are indeed lucky to have Neil bring his insight and experience to a senior role with the GlobalPSC.
A wide range of GlobalPSC members attended the conference, including provincial governments British Columbia and Alberta, industry stewards including Encorp Pacific, Call2Recycle, Stewardship Ontario, the Product Care Association and a variety of others such as the Product Stewardship Institute, Recycling Reinvented and from further afield Stewardship Italy.
GlobalPSC Priority Product Stewardship Workshop
18 November, 2013
DHL, 18-22 Salmon St, Port Melbourne, Australia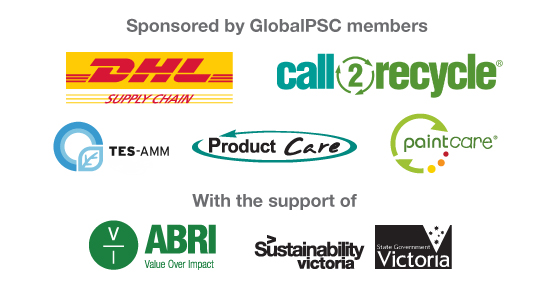 Australia has released a priority list of products potentially covered under the Product Stewardship Act 2011. The designated products include:
• Waste paint
• End-of-life handheld batteries
• Packaging
• End-of-life air conditioners with small gas charges
• End-of-life refrigerators with small gas charges
The Act provides a framework for establishing voluntary, co-regulatory and regulatory approaches for product stewardship. Australia's Environment Ministers have also developed plans for paint and battery product stewardship. The GlobalPSC is helping the Commonwealth and state governments facilitate the efforts for batteries and paint.
The GlobalPSC is bringing global leaders on product-specific producer responsibility collection and reprocessing initiatives to help identify and learn from international best practice to assist these efforts. Featured international speakers include:
• Carl Smith, CEO and President, Call2Recycle (North America)
• Alison Keane, Vice President Government Affairs, American Coatings Association
• Mark Kurschner, President, Product Care Association (North America)
• Corinne Faure-Rochu, Director Business Development, Recupyl (France)
Panel sessions will include these speakers and other product-specific experts on batteries and paint from the USA and Australia. A special evening function will enable even greater access to this international line-up for GlobalPSC members.
Attendance is free for GlobalPSC members in proportion to their membership level (5 free for Sustaining Members, 2 for Standard Members and 1 for other categories). Registrations are $299 plus GST for non-members of the GlobalPSC. Event details, registration and payment information are available at http://globalpsc.eventbrite.com.au.
New GlobalPSC Members and Member Profiles
Sustainability Victoria (Australia)
Infoactiv (Australia and India)
Considering Global Product Stewardship Council Membership?

Considering joining the Global Product Stewardship Council? Curious about the attraction for over 40 members with headquarters or other facilities in 11 countries?
The GlobalPSC has developed an overview on making the most of GlobalPSC membership that addresses communications, events and member services. Learn more about us and our activities. The overview is available
here
.
Membership types, benefits and indicative costs provided in international currencies are available
here
. To join, simply click the 'Register Now' button at the bottom of the
page
.
Events Update
The Global Product Stewardship Council is presenting at or attending the following events:
At each of these events, we will be promoting the involvement of GlobalPSC members and our activities.
Share