Australia Launches National Tyre Product Stewardship Scheme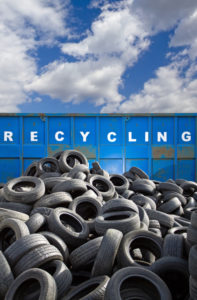 An industry-led national product stewardship scheme for used tyres was launched today by the Hon. Greg Hunt MP, Australia's Minister for the Environment.
Around 48 million tyres reach their end of life each year in Australia; most of these are landfilled, stockpiled, exported or illegally dumped.
The tyre industry has established Tyre Stewardship Australia (TSA) to administer the new scheme. Initial funding has been provided by Continental, Goodyear Dunlop, Michelin, Pirelli, Toyo and Yokohama. Supply chain commitments support environmentally sound end of life management of tyres and will be underpinned by an audit program and education products on best practices.
New technologies and means of developing stronger domestic markets for tyre-derived products to strengthen the demand for local tyre recycling will also be pursued through the Scheme.
The media release in which Minister Hunt announced the launch is available here.  Additional information from the Australian Government on the development of product stewardship for tyres is available here.
Share