MobileMuster's Annual Report & 15 Years of Mobile Recycling in Australia Infographic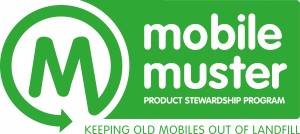 We are pleased to be presenting to you the Australian Mobile Telecommunications Association (AMTA) MobileMuster Annual Report for 2011-12.
This year MobileMuster is also celebrating 15 years since its inception. Since late 1998 the mobile phone industry has collected and recycled more than 1,000 tonnes of old mobile phones, batteries, chargers and accessories – keeping them out of landfill.
This infographic provides a snapshot of the industry's recycling achievements over the last 15 years.
Recycling materials properly is a high priority. MobileMuster's recovery rate of 93% now complies with the new Australia and New Zealand Standard for the collection, storage, transport and treatment of end-of-life electrical and electronic equipment (AS/NZS 5377:2013) and has been independently assured by PwC.
As a result, in 2011-12 the materials recovered replaced the need to mine at least 1,165 tonnes of precious metal ores for gold, silver and copper as well as iron ore, aluminium and other metals.
None of the mobiles or accessories received by MobileMuster are sold overseas for reuse where potentially they could end up in landfills or processed in unethical and unsafe ways causing environmental harm and risk to human health.  All data is destroyed during the recycling process.
The mobile phone industry works with retailers, local governments, schools, workplaces and the Australian community to ensure everyone can recycle their old mobile safely and easily. Click here to learn more about The MobileMuster Promise.
To learn more about the program or how you can be involved MobileMuster visit www.mobilemuster.com.au or call 1300 730 070.
MobileMuster is a Corporate Member of the Global Product Stewardship Council and Recycling Manager Rose Read is Treasurer of the GlobalPSC.
Share