GlobalPSC News – August 2021
Letter from the CEO

Over the last few months, we have been working hard to continue finding new ways to add value to GlobalPSC members. I am pleased to be able to announce and start sharing more about the recent activities of the new GlobalPSC project delivery arm, designed to provide additional benefits directly to members.
The GlobalPSC provides independent research and advice through memberships and fee-for-service project work. Under a relatively new approach to help ensure value for GlobalPSC members, Standard members are eligible for a 10% discount on GlobalPSC project work while Sustaining members get a 20% discount on project work in addition to extra engagement and visibility.
We developed this approach in consultation with GlobalPSC members seeking independent, strategic advice that draws on our international experience. The GlobalPSC trialled this approach with HealthBeacon to conduct research on international product stewardship and extended producer responsibility (EPR) programs for sharps and to outline business case considerations for reusable sharps containers. Given the trial's success, the GlobalPSC Board decide to expand the offer and proceed with the new project delivery arm, offering members great discounts on project work as our commitment to drive better and more informed business case and stewardship development worldwide.
This newsletter also shares early developments on several current projects with GlobalPSC members and other stakeholders to create national product stewardship schemes for textiles and office furniture in Australia.
Where possible, we try to share GlobalPSC project results with GlobalPSC members first, then eventually make them available more broadly. In doing so, we will work with our members to leverage exposure and involvement through our International Stewardship Forum series, podcasts, social media and stakeholder workshops. The GlobalPSC will also continue to provide confidential research and advice to corporations and governments.
We look forward to sharing more details on other initiatives at the appropriate times. We also encourage you to contact us with any questions or to discuss collaborating with the GlobalPSC for project work at discounted rates for members. We will also continue to engage with members to ensure they get strong value out of their memberships. Stay tuned for more.
Fit for Office Furniture Stewardship Program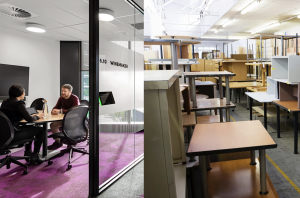 In mid-2021, the GlobalPSC, Edge Environment and Good Environmental Choice Australia began the design and development of a national stewardship approach for Australia to address and divert commercial furniture from landfill.
Supported by the building industry, commercial furniture manufacturers and importers and underpinned by a grant from the National Product Stewardship Investment Fund managed by the Australian Government, the project consortium is researching and designing options for a stewardship scheme that supports landfill diversion, reuse and repair, design considerations, enhanced recycling methodologies and improved social outcomes to drive responsible management of commercial furniture in Australia.
In late July, consortium partners held a webinar to outline the project and issues involved, including an introduction to stewardship broadly and within Australia specifically by GlobalPSC Vice President John Polhill. The webinar recording is now available here.
Announcing the project funding, Assistant Minister for Waste Reduction and Environmental Management the Hon Trevor Evans MP said, "The Australian Government have recently provided more than $370,000 to Edge Environment and its partners to develop, in consultation with industry, a commercial furniture product stewardship scheme. When it comes to commercial furniture, we're talking about a large amount of both textile and plastic waste across the lifecycle of these products from storage and delivery through to the actual components in the furniture. We're excited to get behind this new scheme which focuses on waste streams that are priorities for our government." 
Over the next 2 years, the project consortium will be providing regular updates to all interested stakeholders over the term of the project. Keep up to date on the development of the commercial furniture stewardship scheme and other stewardship initiatives by contacting the GlobalPSC.
Circular Threads Product Stewardship Program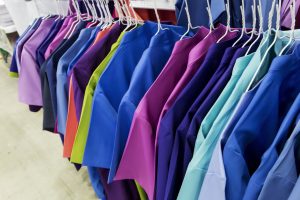 The GlobalPSC has partnered with stakeholders to help develop Australia's first national product stewardship scheme for textiles.
The Circular Threads Product Stewardship Program, run by the Australasian Circular Textiles Association (ACTA) was awarded funding through Australia's National Product Stewardship Implementation Fund. Under Circular Threads, the GlobalPSC and ACTA are focusing on the delivery of a viable product stewardship scheme for uniforms and workwear by 2023.
The GlobalPSC is a member of the Circular Threads Working Group, the entity responsible for scheme design. Product stewardship and EPR possibilities are squarely on the table. The project team is also building upon the outcomes of Australia's first National Textiles Waste Roundtable.
In June 2021, Australia's Environment Minister Sussan Ley MP added clothing textiles to the annual Minister's Priority List of products and materials considered to be most in need of a product stewardship approach in Australia.
Share